During the summer of this year, I was lucky enough to embark on a volunteer trip to the Caribbean island of St Lucia. For six weeks I worked with a number of international volunteers to aid and help develop grassroot coaching programs within the Caribbean. It was a truly amazing experience which has taught me a lot both about myself and the world around me. During the trip I was immersed in the local culture and atmosphere of the island which I had never experienced before and remains a truly unforgettable experience.
Throughout my trip, I was able to work on a number of projects within the community helping to develop fundamental skills within the sport. This was varied and ranged across all ages and abilities. One program was based in a preschool working with children with a range of disabilities both physical and mental. For this, I was pushed outside of my comfort zone as I have little experience in working with children in this capacity.  However, by the end of the six weeks I was able to comfortably run sessions in both a one-to-one capacity as well as group sessions.
Similarly, I worked in the local convent school running various afterschool sessions introducing the girls to the basics of the sport. As St Lucian netball is heavily reliant on volunteer coaches from abroad, the girls hadn't experienced any sort of netball since before the pandemic. With this, many benefitted from the progressive program which we offered which began at a basic level but also ensured the girls who were more experienced could be pushed. This program also encouraged the girls to come to our women's sessions in the evening providing even greater opportunities for the girls to stay involved in the sport. In addition to this, the project set up beginner classes on learning how to coach and how to umpire. These were extremely successful sessions which developed competent coaches who can now run their own sessions ensuring continued progress for the girls. Overall, the sessions I taught were met with lots of enthusiasm and seem to have fully integrated into continued programs.
The trip was truly a life changing experience, I was able to discover so much, not only about myself but about different cultures and backgrounds which I had never really experienced. By working in the community, you quickly get to discover first-hand the problems and issues people face. For me, I was surprised by the levels of poverty and violence within the island as the Caribbean had always been presented to me as a paradise destination. Many of the programs were based around supporting the poorest in the community and attempting to decrease the number of young people involved in gang violence by getting them involved in after school programs.  This made the program all the more rewarding to be a part of as many of the girls were extremely talented not only in the playing aspect of the game but also the coaching/umpiring sides, whose talents would have been otherwise overlooked. As I reflect on the things I learn during my time away, I feel it is important to stress the importance of culture and understanding that the rest of the world is not just like home. Whilst this may sound obvious, I have learnt that grasping an understanding of both people and place allows real change to be made and is the key driver in setting up programs in a new country.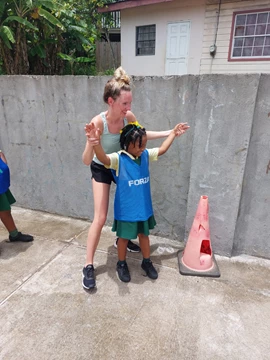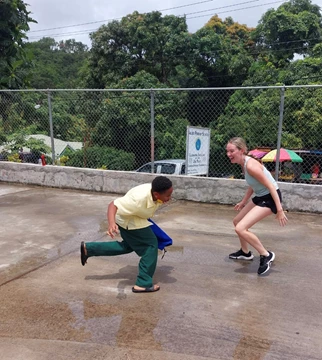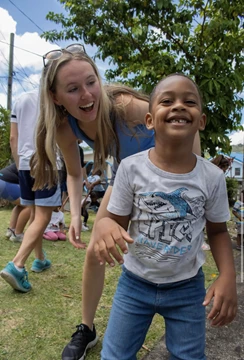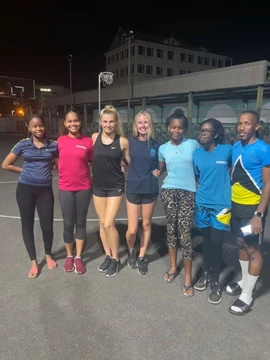 I should also note this project has allowed me to grow in both confidence and to develop my decision making skills, which are vital life skills that I will continue to use in my everyday life. Being pushed to work in an entirely new environment with a new team of people has taught me how to be flexible and adaptable, which are skills that I had never really considered. The changing environment really emphasised the idea that no matter how organised you believe you are, sometimes you just have to put trust in your own abilities to cope with changing situations. These skills are vital to everyday life and provide me with a diverse skill set going forward which will definitely benefit me in the future.
Overall, St Lucia was the trip of a lifetime and I can most certainly say I made the most of it. The trip pushed me to defy boundaries I didn't even know I had whilst teaching me life skills which are so important to building future plans. I honestly cannot stress enough how important small projects like this one are to these communities. For me, netball was always just a social activity that I very much enjoyed at home, but never did I imagine that I would be able to make a real change in other communities and help people much less fortunate than myself.
My advice for anyone considering applying for the Jersey Overseas Aid Bursary would be find something you're passionate about and use it to help make a change, it doesn't matter how young you are. Going into this trip, I personally was quite pessimistic about how much of a change my work was going to make. However, I cannot underestimate how happy the work you do makes others, especially when it's a cause that's special to you. For me, I have always loved netball and to share all the skills I learnt with others, and seeing how happy I was able to make others is priceless. The Jersey Overseas Aid Bursary was a great help in actually allowing me to feasibly go on the trip as travel costs are extremely expensive and for young people such as myself a key deterrent in getting young people to volunteer. I cannot thank the JOA team enough in helping me to cover travel costs – in addition Beckie and the team were also extremely good at communicating with me both before and whilst on the project. As a team, they are a great support network and are more than happy to assist in any way they can. Therefore my final piece of advice would just be to grab every opportunity to explore something new, you will learn new skills which are so important to your future prospects but also discover a whole new place whilst also making a rewarding difference in the lives of others.