The blue gate slides back with friendly shouts from the Security team of "SoboHo", the shortened morning greeting here. They check the car, take our temperature for Covid-19 preventative measures, and if all is good, they raise the barrier and we roll into the compound. Around the corner a queue of people starts to enter through the front gate welcomed by UNHCR staff. Colleagues are arriving in pairs, busily beginning to unpack their bags on the way to their desks and ready themselves for what's ahead. It's 7:55 and the heat of the day starts to rise. Field Office Tyre is waking up.
Situated in the south of Lebanon, Tyre is a coastal town with a beautiful stretch of golden sand. The city juts out into the Mediterranean, so the sea in all directions helps alleviate any homesickness for Jersey. The south of Lebanon covers a huge area with multiple distinct regions, from the coast to the mountains with refugees residing throughout.
Registration is the largest team here, 28 brilliant staff members who support these families day in day out. In the centre interviews are conducted to assess each individual or family's situation. We issue documents and record details about family size, new babies, marriages, and divorces. We collect data and information about their lives, and when necessary the reasons they fled their country. If there are concerns or vulnerabilities found in this initial interview, then we will refer the people to where they can get help. For example, their landlord may be demanding more money from them which they can't afford, their brother may have been threatened by someone, or they may need psychosocial support. It is a tough job, supporting people who are in desperate situations having fled almost unimaginable terror. I use the word almost as the team listens to the stories every day, understanding only too well the reality of the issues they have faced.
We also refer cases who meet the criteria to the Resettlement Unit to be in with a chance to travel outside Lebanon and start a new life elsewhere, like countries in Europe, Canada, and the USA. With the hundreds of thousands of people in need, more countries need to help to take some of the pressure from places like Lebanon, which hosts more refugees per capita than anywhere else in the world.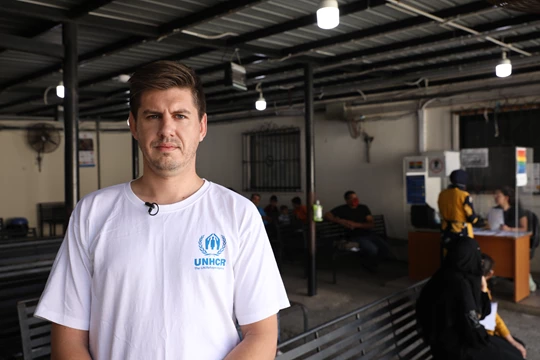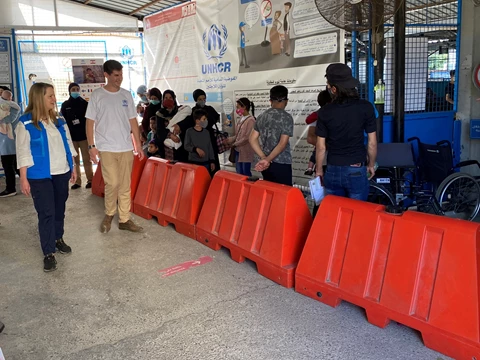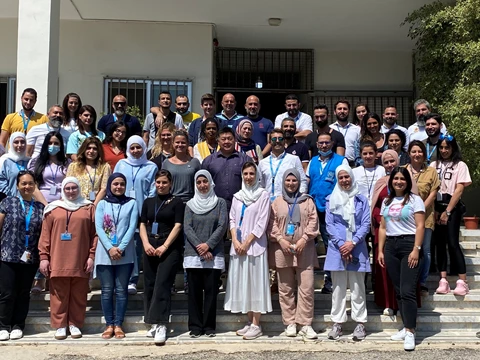 I am in the privileged position of leading this dedicated Registration Team that provides such an important service to the tens of thousands of people needing our help. My role sits within the Protection Team. We are the unit that provides all the follow-up support to try and ensure UNHCR's mandate, and people's human rights, are upheld. Within the Lebanese context, it is a challenging task indeed.
The people visiting the centre are mostly from Syria, fleeing the horror of the war that has plagued the country for more than a decade. Around 10% of the estimated 1.5 million refugees in Lebanon are based here in the South, and our office provides services to them all. People live in dire conditions, in disused buildings, or makeshift dwellings on spare land, often in collective shelters with dozens of other families. Nearly all must pay some sort of fee to the landowner, despite the poor conditions. UNHCR provides as much support as possible, from weatherproofing for the harsh winter that saw snow falling until March, plumbing for sanitation, and fuel to burn for heat and cooking. But the scale of the situation means there are so many people in desperate need that it is hard to cover it all.
Lebanon itself is struggling at the moment. It faces one of the worst economic crises seen anywhere in the past 50 years. When I was last in Lebanon in 2015, a dollar was equivalent to 2,000 Lebanese Lira. Now, a dollar gets you 32,000 Lira, hyper-inflation on a huge scale due to a cacophony of misfortune and mismanagement. Life is extremely difficult for locals, with upwards of 70% of locals now estimated to live below the poverty line. For refugees, this means that their already untenable situation becomes even more difficult, with basic commodities doubling and tripling in price.
Lebanon is an achingly beautiful country. It has snow-capped mountains and miles of tropical coastline, lush green valleys, and ancient historic sites to explore. Plus, it has world-renowned cuisine, hedonistic nightlife, relaxing mountain escapes, and famous hospitality where to say no to the offer of food is a mortal sin. Despite the difficult times, this hospitality remains and so settling in has been a pleasure thanks to the generosity of the colleagues and friends around me.
If all goes to plan this will be home until January 2024. Every single day there is something new to learn and experience. I'm looking forward to continuing to work hard within this context and provide as much support as possible so that refugees in Lebanon are given a chance at a better life.